Sure Smile Clear Aligners as Easy as 1,2,3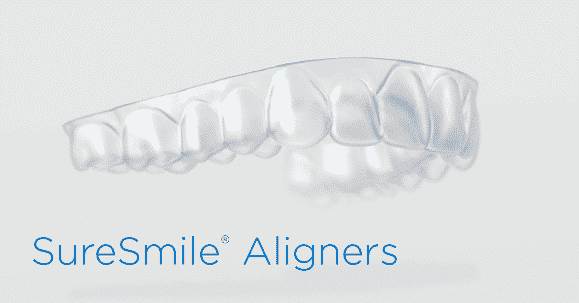 A Guide to SureSmile Clear Aligners in Orland Park, Illinois
If you have always wanted a beautiful, healthy smile, there's never been a better time. Call Inspire Dental Wellness today at 708-460-6699 to learn how SureSmile clear aligners can help you.
Many people put off straightening their teeth, thinking it involves years of wearing metal braces. But SureSmile aligners work differently. These clear aligners, very similar to Invisalign, are hardly noticeable, and they make smile makeovers speedy and simple. Using SureSmile, the dental team at Inspire Dental Wellness can give patients the smiles they've always wanted without the hassle.
The Advantage of Invisible Aligners
Why choose SureSmile invisible aligners? The short answer is that they are the best way to quickly and easily straighten teeth. Here are some details:
Speed When patients decide it is time to fix their smiles, they are impatient to see results. SureSmile alignment takes on average six months, which is three months less than the leading competitor.
Comfort We use 3D imaging and computer fabrication technology to create clear aligners that perfectly mold to a patient's teeth. The manufacturers of SureSmile aligners use laser cutting technology, which means no more rough edges to irritate a patient's mouth.
Appearance SureSmile clear braces for adults get molded from computer-generated data using Essix® ACE material, which is almost invisible to the naked eye.
Oral Health Traditional metal braces are more difficult for dental hygiene. Since orthodontists cement the metal in place, braces trap food, brushing teeth is difficult, and flossing is much more difficult. But SureSmile aligners are removable, allowing patients to eat, brush and floss in the same way as before treatment, or remove them entirely for special occasions.
Convenience Aligner users spend less time in the dentist's chair than patients who opt for traditional braces. SureSmile treatment time is faster, the number of appointments is fewer, and the length of each appointment is shorter.
Results When it comes to tooth alignment, one size doesn't fit all. Incorrectly positioned teeth can harm a patient's appearance. To avoid this, we use digital technology to produce tooth alignment that works perfectly with the patient's unique facial features.
Using SureSmile clear aligners to achieve the smile you have always wanted is as easy as 1, 2, 3.
The SureSmile Consultation – During the first visit, the dentist performs a 3D scan of the patient's teeth and takes the patient's photograph. These images enable dental technicians to create a treatment plan and sets of comfortable aligners that will quickly produce results tailored specifically to the patient's needs.
Commence Treatment – After a short wait for fabrication, patients get sets of dental aligners designed to gradually shift teeth into the required positions. You'll wear each set for approximately two weeks, with visits to the dentist every so often to fine-tune and check on the realignment's progress.
Finish Treatment – At a patient's final visit, the dentist will ensure that everything is as it should be and that the patient is happy with the results. After this, the former Sure Smile patient is free to start enjoying life with a new, beautiful smile.
Frequently Asked Questions
What dental problems are SureSmile aligners ideal for? These invisible aligners are excellent at solving several dental problems, including:

Overbites
Underbites
Crossbites
Gaps between teeth
Crooked teeth
SureSmile aligners can also hold temporary teeth during dental implant procedures

How much do SureSmile clear aligners cost? The cost depends on how much work is involved in realigning a patient's teeth. The cost of SureSmile aligners is comparable to that of traditional braces, but the SureSmile treatment is speedier, more precise, and more comfortable. At the initial consultation, the team at Inspire Dental Wellness will be transparent about pricing and help patients check their insurance coverage. Attractive financing and payment plans are also available to qualified patients.
Does dental insurance cover SureSmile aligners? That depends on the patient's insurance; however, SureSmile aligners are considered orthodontics, and many policies include an allowance to help pay for this treatment.
How many hours a day should patients wear SureSmile? The longer you wear the aligners, the more quickly they do their job. To get the best results, you should wear SureSmile aligners for at least 22 hours a day, which allows ample time to remove them for eating and brushing teeth, and is a lot better than the 24 hours a day required for traditional metal brace wearers.
After treatment ends, do teeth stay in their new alignment? The retention of alignment differs from patient to patient. Some patients' teeth stay where placed, while others soon start shifting. If you fall into the latter category, we can remedy this by having you wear specially molded retainers overnight. Retainers are also great to prevent damage from tooth grinding, so they can do double duty.
Led by Dr. Erica Zolnierczyk, the dental team at Inspire Dental Wellness offers the best in dental care to residents of Orland Park, Illinois, and the surrounding area. From general dentistry to cosmetic surgery and dental implants, the dental services available at our convenient location are comprehensive. We offer not only the best invisible braces in the industry but also employ the latest dental advances and technology to produce great results.
Call today at 708-460-6699 to schedule a free consultation and take the first step toward a smile you'll be proud to have.